The peanuts were due for the inevitable 12 month check up. I decided not to tell them that this check up while fun, would come with some down side to it. Shots. YUCK! I actually hate these more then they do. I'm happy to report that theydid okay. Catalina was first up & did not even flinch (even tho I did!). Valentina on the other hand screamed her little lungs out (my eyes welled up). I know it's been a year & I still can't get used to this stuff. 1 out f 2 aint a bad record. I've decided to give Dr. M another to chance to redeem himself next time affording him yet another opportunity to give my girls vaccinations without the tears. UUGGHH. On a good note...the girls are tracking very well. Development is up to par! Not walking yet but some important milestones to note is that they glance over at mom for approval. They've got the concept of balance down. I didn't pick up on this one but the doc did. They stretch out their hands when they feel themselves off balance. Pretty cool! I don't give our doc enough credit. He's got a great way to give me the comfort I seek that my kids are doing well & there's no need for me to worry.
It's cool to be 1 girls!
Some new things we'll be working on until our next doctor visit.
-Transition to cow's milk.
-Transisiton to cups.
-Trying new foods fish, eggs, peanut butter.
They're officially toddlers. Can you believe that?!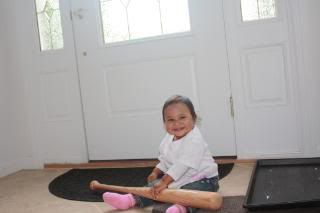 Ok sorry J but I don't think they're ready to play for the Yankees yet.