We experienced quite a few firsts this weekend all beginning with the girls' 7 month mark on Friday December 19th!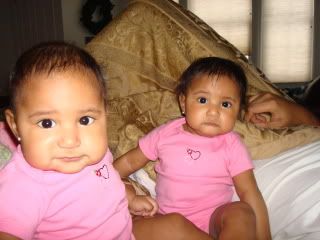 The morning of their 7 month birthday :)
I have to note that this month Cati seems so amused by her doll showing big giant smiles when I show her the plush lovable blond doll. And seems to be amused with her & she can be entertained by the rather plain doll for a pretty long time.
This week we had our first snowfall of the season & I managed to get out right after I put the girls to bad to catch a quick snapshot of the occasion. It was very peaceful & sweet I thought. Later this weekend we got pummeled by more snow on Friday and Sunday...so what was initially welcomed with great awe & novelty is now turning into a huge headache.
And finally we got celebrate a birthday for my first little girl...TOPAZ! She is now 4 years old and a grown up in dog years. AAAHHH it's all happening way too fast. We had a small celebration for her & her birthday gift consisted of some yummy organic all beef hotdogs. And yes, she got everything she wanted for her birthday.
!