...if you starting humming this in your head then you know EXACTLY what I'm about to write about. HA HA inside parent joke. Anyhow yes, the girls were on a real adventure recently. We visited the jungles of New York City and found some interesting places to hang with the peanuts.
These days any trip into the city with the peanuts is a real adventure for me and I don't have a handy backpack with everything & the kitchen sink or a map to lead me to the best parking lot, or a fox who's willing to swipe a few things from me that weigh a ton of bricks. But I do have grandma & she was just as great. The girls had no idea but I had a day of fun filled activities for them. First stop, the Children's Museum of Manhattan. This gold mine was packed full of fun that could have kept the girls busy for hours & hours on end. It would be really great if they had some kind of child care program so I can leave them there & paint the town red :) but enough of my fantasizing. This excursion was about bringing my girls' animated friend to life.
These intelligent wonderful people have a fantastic Dora The Explorer & Diego exhibit. The girls enjoyed both! They're not huge Diego fans but given the shy smile Cati has on her face everytime she catches a glimpse of him on TV, I have a feeling she was more then happy to see Diego come to life at the exhibit.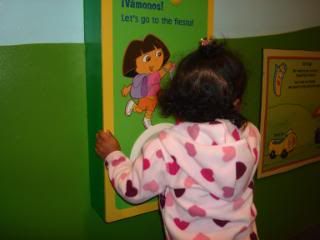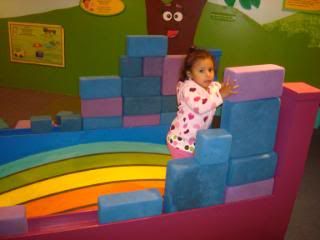 I have to tell you how great it was to just release the hounds & let them roam freely in this colorful baby-proofed world. I wish more places were like this. All I had to do was follow around one child while grandma followed around the other child (she didn't realize what an aerobic workout this would turn out to be). The museum had an entire floor dedicated to this exhibit filled with child-height exhibits & interactive stations.
We also took them to other floors which also had great activities...like the classic slide. You just can't lose with a slide. I bet that guy must be rolling in dough with that invention. But my kids enjoyed this too.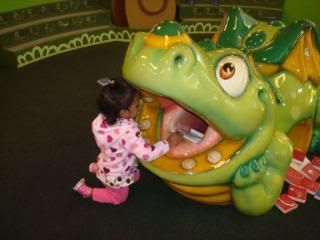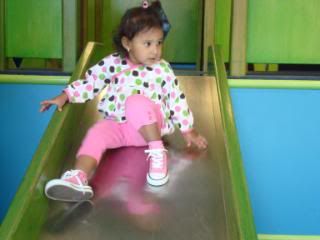 Getting them out was a whole other adventure. I finally did convince them to leave with some bribing & consoling. Next stop lunch & then a nice long local car ride downtown so that maybe two peanuts could take a power nap before our next adventure!
Lunch worked out well. No one got into a food fight, no abrupt exit from nearby patrons & the girls actually ate. So in my book we got an A++. The nap situation worked out well for one & not so well for the other but hey 50% success rate here is not bad. Then the climax of our day, Radio City Music Hall. I wish I knew what they were thinking when we got in there. The place was mobbed with people, screaming children & stroller bumper cars. It was a tad stressful for moms & caretakers like grandma praying & hoping that when you got home you had the right child. But I have to say that the venue did a nice job of getting people in and out as quick & painless as possible. And I was happy that I didn't have to quiet down my kids every 5 minutes. I actually enjoyed the chaos a little because I didn't have worry about being "that family." We got to our seats & that's where we stayed until it was over. I finally got a moment to rest my legs & the girls were busy admiring the enormity of the theater, staring at the ceiling & stage.
It was exciting for ME to see some one-of-kind moments when their faces light up in amazement. Their favorite friends live & in front of them causes such a reaction that it's absolutely priceless.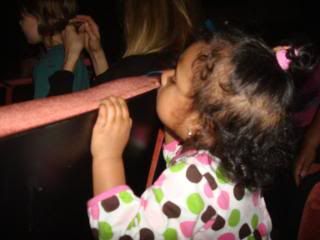 Some of us wanted to jump out on stage...to literally go & hang out with Dora.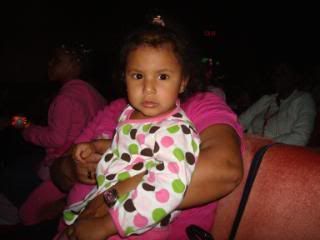 But all good things have to come to end a hard fact for the peanuts to accept but the it was worth the trip!