I have to start by saying that parties have always caused anxiety for me both throwing them & having them thrown for me. Combining family & friends has been a source of anxiousness maily because there's so many people that form both groups. We are fortunate to have a large extended family as well as wonderful groups of friends. But having everyone under one roof is nearly impossible (our wedding was overflowing with over 215 ppl). I know most 1st birthday parties are done up BIG. But I wanted to break with tradition and I tried my very best to keep my peanuts the focus of the party & have something that they could enjoy as much as possible. I guess that's terrible hostess etiquette. I realize usually the guests are the focus. So we kept it low key as much as I possible could considering our large families on both sides. I planned ahead as much as I could & a little daily prayer to the Big Guy upstairs helped too :) but nevertheless the anxiety was high & so was my blood pressure.
The start of my day was to feed the girls & get them to nap time as quickly as possible.
My own creation...cupcake towers! And that's plural..yes TWO towers.
While mommy tries to multi-task the kids don't make this easy....uggghh!
I got almost everything done before they got up from their extremely short nap. It figures! And J ran around town running errands & picked up the cakes.
Hooray for cupcakes!! No cake cutting. I dread cutting cakes. It's so messy!
We started with singing Happy Birthday 2x & blowing out their #1 candles. I know, I know, this usually happens at the end of the party. I'm telling you, this party really had me stressed out thinking about how most kids can get cranky & tired & down right unbearable at their own party. And at the end of it all it doesn't seem like they enjoy it all. At least that's what MY 1st birthday party pictures looked like. So I decided we'd start with the important elements first and make sure the girls were in a great mood AND clean!
Catalina
Valentina
Mommy & the Birthday Girls
Bring on the entertainment!!! We're not into characters, YET so I decided to ask their music teacher if she could entertain the girls & their friends for their birthday. She jumped at the idea (thanks Miss Wendy!). And I have to admit the girls really enjoyed it. And so did many of our little buddies. YAY!! I was pretty darn proud of chosing to go with something that everyone really enjoyed. At least it seemed that way to me.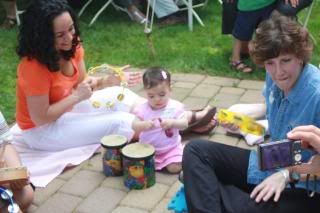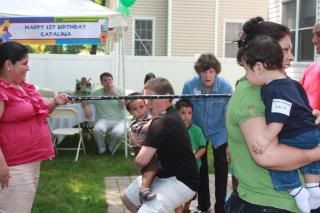 And finally our guests enjoyed the BBQ provided by mommy's helpers! I couldn't have pulled this off without some professional help (thanks to Enjoy Your Party Co.)
At the end of it all when J & I sat down to reflect on the day I realized how incredibly special it was. I enjoyed my party with my peanuts and at that moment I figured out why people throw such large celebrations after the first year of your child's birth. We do have a lot to celebrate & be thankful for....