So our peanuts turned 9 months this week!! Yippy!!!
In our family there's always reason for celebration! And this weekend was no different as it turns out my cousin's son also celebrated another milestone in HIS life. He turned 16 years old. So we had a fun time with the fam. And grandma reminded everyone that the babies had cause for celebration also.
Personalized t-shirts were courtesy of Grandma (my mom) who is quite proud of our girls' ethnicity. Jorge's parent's are from the Dominican Republic and that makes me their other 50% :) Peru. Although we are quite proud of the multi-nationalism the girls will have, we also are very proud Americans. So despite the rich cultures the girls will have they are 100% USA!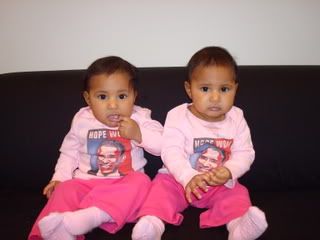 !