Since the girls turned 3 months old I've heard countless of "oh they must be teething." Yet there was never a sign of a tooth in sight. After ooodles of drool, rivers of cranky tears, diaper rashes, etc. etc. A tooth has finally arrived! I felt the tip coming through a couple of weeks ago but until you can visible see it I was reluctant to celebrate the arrival of Catalina's first tooth. Now, she can revel in the joy of her much awaited tooth!
We all were anxious to see this happen since it is a little on the late side. I know there are tons of children who don't see a tooth for months but still we were pretty excited about it and quite impatient. I for one wanted to finally be able to say..."why YES, yes she is teething. You see she's got a couple of teeth already!" It just seems that whenever a child has a little spit, is a little cranky, is enjoying chewing on something, or anything for that matter, the comments are usually the same 'ol "it MUST be she's teething" And yet there was never a remote sign that any tooth was on it's way. So big ups to my pediatrician Dr. M who very confidently predicted they would have teeth by our next appointment! :)
My other little peanut unfortunately is still very happily showing her gums!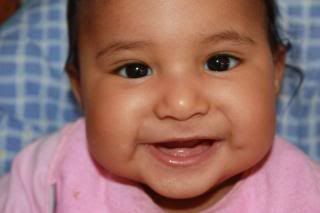 Or maybe not so happy...maybe her new toy will help her wait patiently for her 1st tooth.
!