You get up to walk the dogs & they start to tremble mid-walk. My hands were cold this morning. So cold, I thought to myself, I may have to get my gloves out. When thinking about what to wear I could only envision a warm lumpy sweater, boots, and warm wool pants. Sometimes these thoughts begin to depress me. But then I think about the fun things that this time of year brings us.
Like my birthday!! I got my very first birthday card from my peanuts...it was beautiful.
And J didn't forget either...he got me a "sign of Spring" this made my heart happy to know that Spring will be back again :)
Our fall decorations are out for the world to admire as they drive, run, or walk past our house.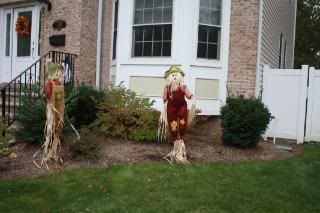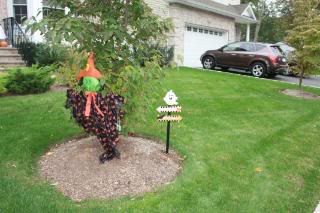 And we can't forget the uber-fun holiday...HALLOWEENY!! Last year, the peanuts were Lady Bugs. This year's been a bit of challenge to come up with a costume for them that's creative & fun & one that lets me join in on the dress up fun. You all know how much I love costumes & pumpkins & everything HALLOWEENY!

And only in the Fall can you enjoy a yummy warm cup of soup. This I pulled off with a recipe from my good buddy Paula Deen. It was so easy peasy & just right for me. Next on my list is yummo pumpkin soup. Lord knows I love everything pumpkin...pie, muffins, soup, just to name a few. I also like to carve them & paint them.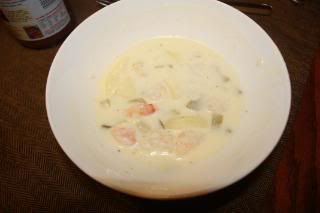 So maybe the crisp cool autumn season is not SO bad.