We had a good excuse to head out to Boston this weekend, as our good friends were getting married. While I grew anxious as the weekend drew closer thinking about all the packing I had to do, wondering if the girls would have any meltdowns during inappropriate moments, and if the dogs would behave in the hotel while were out & about, in the end it was a great weekend with not too many mishaps.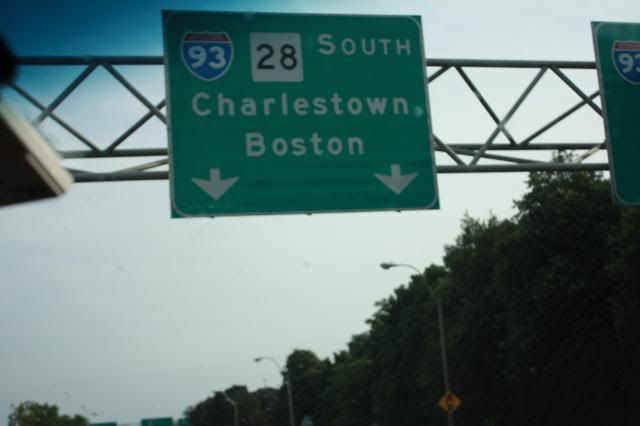 We left quite early and when I finally saw this sign I was so relieved. For some reason our hotel wasn't expecting us this early, despite my many phone calls to confirm & re-confirm our arrival day & time. They squeezed us into a tiny room (2 adults, 2 toddlers, & 2 dogs...squeeeeeze) that wasn't ideal but we dealt with it because we had a wedding to get to in a hurry on Saturday morning (friggin hotel reservations!).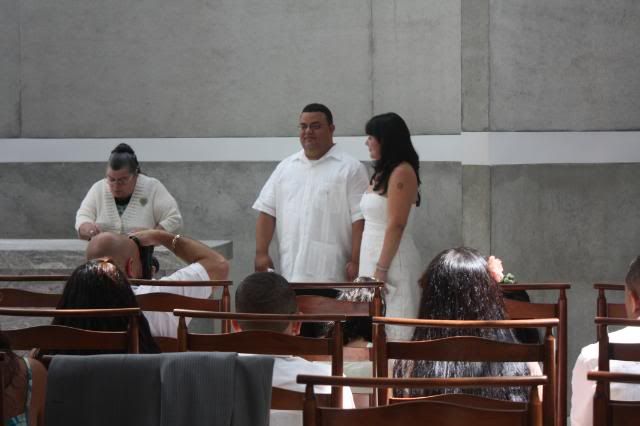 The bride & groom from afar. I sat waaaay in the back...on purpose!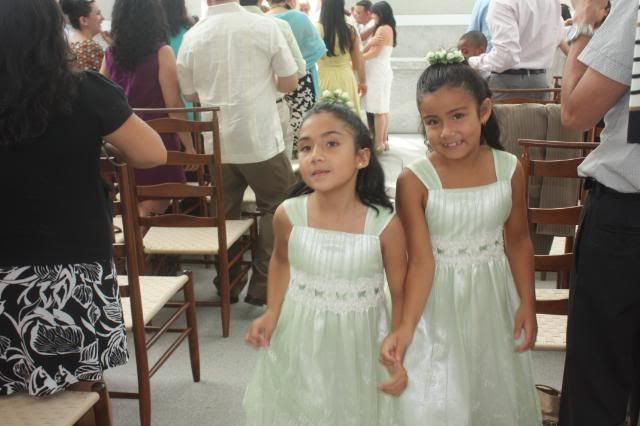 The flower girls were nice enough to pose for a close up.
The wedding took place in a pretty chapel on the Harvard University campus. I didn't get good pics because my hands were busy chasing a little one around & desperately trying to keep her calm & composed during the ceremony. J had to remove our other little one because she was unable to use here "inside voice" lol. In the end I got to hear the important parts & we were very happy for the newlyweds and very grateful that they allowed us to bring the peanuts to be a part of the grand event. Our good friends were also kind enough to make it all happen a decent hour 11am ceremony followed by a lunch reception at a casual dining establishment owned by the groom's cousin. I couldn't get a good pic of the place but I assure you the ambiance was incredible & the food, to die for ummmmm.
Merengue
, if you're ever in the Boston area and looking for authentic Dominican cuisine you have to have a meal here.
Once the important events were over and the party was off to take pictures the peanuts enjoyed their abandoned playground. It was a little strange watching them run up & down the aisle. Part of me was thinking, I am SO not ready to see my little girls walk down the aisle yet.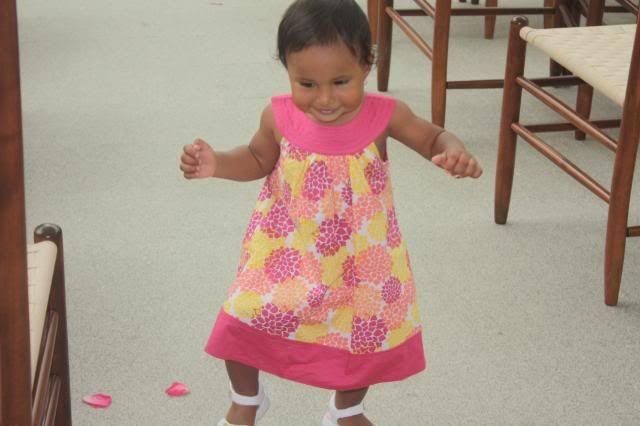 I also don't know why my daughter decided she was going to place rose petals on this gentleman's knee. Sorry mister!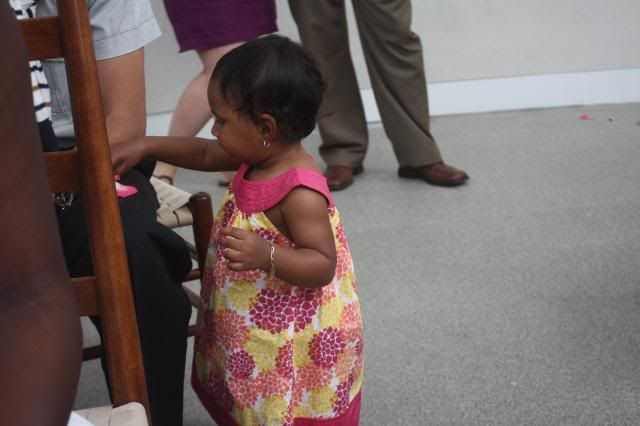 But by the end of the weekend the girls were happy to be home playing with their own stuff.
Notice someone finally got her sand!!
Cati was getting a closer look to see if her eyes weren't decieving her.
Val had a questionable expression, probably like me, I'm sure she was thinking ewwww sticky!